NCCT is the fastest growing "Satellite Extension Program"
Accreditation

The North Carolina College of Theology is a member and independent subsidiary of the Southern Accreditation Association of Christian Schools and Colleges, the American Association of Theological Institutions, and the American Accrediting Education Association of Christian Schools.
The Accrediting Commission
International Inc.
5260 Paylor Lane
Sarasota, FL
34240
President
John F. Scheel, Ph.D.
p: 877.224.1989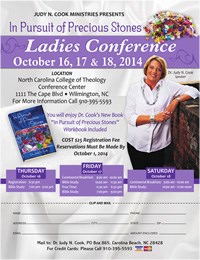 For Ladies Only
Ladies Conference October 16, 17 & 18, 2014!

President's Message
We are delighted at your interest in studying to show yourself approved unto God. Making a living is important, but learning how to live is more important.
By enrolling in the North Carolina...