News & Events at the NC College of Theology
News
New Curriculum!
Excitement is in the atmosphere with the introduction of our new curriculum! We are so excited for our students this year, we here at NCCT pray that God will reveal himself to you in a whole new way!
Great Start!
NCCT is off to a fantastic start this year! We have made new connections this year with so many Men and Women of God!
Annual Presidents Meeting
Topics Discussed

1. Upgrade in curriculum

2. Deadline changes for all fees

3. Accreditation Upgrades

4. The Expansion of NCCT

God Bless,

Dr. Judy Cook
President
North Carolina College of Theology
Events
Graduation
Graduation, June 6th, 2015
CFCC Schwartz Center
601 N. Front St.
Wilmington, NC 28401
Students arrive: 9am
Ceremony begins: 10am
Semi-Formal
Semi-Formal Gala, June 5th, 2015
Best Western Coastline Inn
503 Nutt St.
Wilmington, NC 28401
Event starts: 7pm
Cost: $75 per person
Tickets go on sale: March, 9th 2015
NCCT President's Meeting
1111 The Cape Blvd.
Wilmington, NC 28412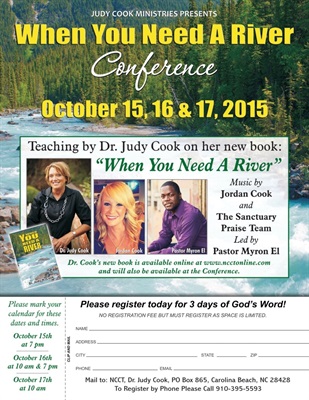 When You Need A River
When You Need A River Conference October 15, 16 & 17, 2015!
2015 Graduation Photos
2015 Graduation Photos available to download for free! When posting on social media please use #NCCT2015