News & Events at the NC College of Theology
News
New Curriculum!
Excitement is in the atmosphere with the introduction of our new curriculum! We are so excited for our students this year, we here at NCCT pray that God will reveal himself to you in a whole new way!
Great Start!
NCCT is off to a fantastic start this year! We have made new connections this year with so many Men and Women of God!
Annual Presidents Meeting
Topics Discussed

1. Upgrade in curriculum

2. Deadline changes for all fees

3. Accreditation Upgrades

4. The Expansion of NCCT

God Bless,

Dr. Judy Cook
President
North Carolina College of Theology
Events
Graduation
Semi-Formal
NCCT President's Meeting
1111 The Cape Blvd.
Wilmington, NC 28412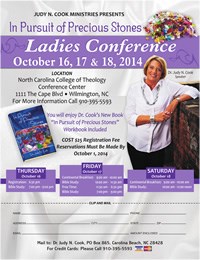 For Ladies Only
Ladies Conference October 16, 17 & 18, 2014!

President's Message
We are delighted at your interest in studying to show yourself approved unto God. Making a living is important, but learning how to live is more important.
By enrolling in the North Carolina...