NCCT offers various degrees in the ministries
Degree Programs
The North Carolina College of Theology offers various Associate, Bachelor, Graduate, Masters and Doctorate degrees in many fields such as:
A Certificate of Biblical studies is also available, a one year study of the Word of God. Degrees are awarded through the North Carolina College of Theology Satellite Extension Program.
Students may apply to the NCCT external studies program and attend one of the Satellite Schools, located throughout the United States and abroad.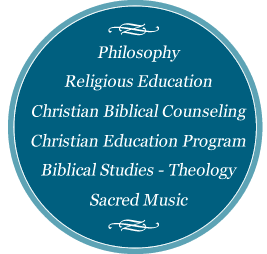 Tuition & Fees
| | DEGREE | APP. FEE | BOOKS | TUITION | ADMIN FEE | GRAD FEE |
| --- | --- | --- | --- | --- | --- | --- |
| 1st Year | Associate | $60.00 | $400.00 | $1580.00 | $100.00 | $100.00 |
| 2nd Year | Bachelor | $60.00 | $400.00 | $1680.00 | $100.00 | $100.00 |
| 3rd Year | Graduate | $60.00 | $400.00 | $1835.00 | $100.00 | $200.00 |
| 4th Year | Masters | $60.00 | $400.00 | $1980.00 | $100.00 | $200.00 |
| 5th Year | Doctorate | $60.00 | $640.00 | $3250.00 | $100.00 | $350.00 |
*There is an additional $60.00 application fee for every degree
*Can be broken up over 3, 6, or 10 months
*Fees and Tuitions may vary depending on location of each Satellite School
Students are responsible for ordering there own graduation robe@collegegrad.herffjones.com .

NCCT Course Catalog
Admissions Policy

Undergraduate Level Requirements
High school transcript or a high school diploma or its equivalent is required. A minimum of a 2.0 GPA is required. (Students that fail to meet the minimum requirement can petition the admissions committee for provisional acceptance)
Submit Application Form with 2 Letters of Reference. (One from your pastor or spiritual leader. One from the community)
Make payment of the nonrefundable $60 Application Fee.
Arrange to have official transcript (s) sent directly to NCCT in sealed envelopes from all institutions previously attended. Complete a pre-assessment.
Graduate Level Requirements
Grade of B or higher on upper level baccalaureate work
Submit a statement of faith
Provide proof of active ministry involvement (reference letter, ministerial license or ordination)
Make payment of the non-refundable $60 application fee.
Arrange to have official transcripts sent to NCCT in a sealed envelope.
Complete a pre-assessment.
TRANSFER STUDENTS:
Applicants who have completed work in an institution of higher education may receive transfer credit for courses which are applicable to the curriculum. The minimum grade that will be accepted is a "C." All transfer students should arrange to have official transcripts of their previous training sent directly to the Registrar for evaluation and recording. Applicants can not be granted "Advanced Standing" until the necessary transcripts have been received and reviewed by the Office of the Registrar.
Withdrawal:
Although it is strongly recommended that a student complete any semester in which he or she has enrolled, certain situations may make withdrawal necessary. The following procedure must be followed if the student wishes to petition for withdrawal:
Discuss the situation with the student's advisor and with the Dean of Students.
Complete and return a withdrawal form (available from the Registrar's Office) signed by the Dean of Students, the student's advisor, and the Business office. Academic Records / Transcripts An academic transcript is kept for each student in the Registrar's Office. All grades earned by the student at NCCT are recorded on the student's academic transcript. The courses for which the student was enrolled and the grades earned are recorded at the end of each semester. Cumulative credit hours attempted and earned and grade point average will also be recorded at the end of each semester. All transcript requests must be made in writing and have the student's written signature. All requests must include the student's full name, date of last attendance or date of graduation, degree earned, date of birth, and social security number.
An Important Announcement!
The appropriate state University of North Carolina authority has declared the relevant degree program of study exempt from requirements for licensure und provisions of North Carolina general statures section G. S. 116-15 (d) for exemption from licensure with respect to religious education. Exemption from licensure is based upon assessment of program quality under established licensing standards.

Assessment and Public Accountability

Graduation Rate and Graduate employment in program related to occupation
| Year | Graduation Rate | Graduate employment |
| --- | --- | --- |
| 2020-2021 | 99% | 90% |
| 2019-2020 | 94% | 94% |
| 2018-2019 | 98% | 91% |
| 2017-2018 | 95% | 90% |
| 2016-2017 | 97% | 96% |